Zygocactus, Christmas Cactus, Holiday Cactus & Schlumbergera are the same plant
Zygocactus Flower Plate
Zygocactus flower platter
This plate of colour is a sample of some of the diverse, rich and beautiful flowers that make up Australia's favourite Zygocactus Fantasies.

Zygocactus greeting cards

NEW

Zygocactus greeting cards


We have added a Greeting Card Shop section to our website from January 2017.

All cards US$4.00 each with FREE shipping.



Depending where in the world you live you will know these beautiful flowering plants as zygocactus, christmas cactus, holiday cactus or schlumbergera. The good news is they are basically the same plant. In America they are mainly known as Christmas Cactus or Holiday Cactus as flowering coincides with Thanks Giving and Christmas holiday periods in November and December each year.
In Europe they are mainly known as zygocactus or schlumbergera and are associated with Christmas.
This works very well for those living in the northern hemisphere yet in the southern hemisphere where they were naturally found in the South American jungles they flower around April, May and June which is not Christmas.
So in Australia, New Zealand and South Africa they are known simply by their common name of Zygo's.
This site is all about these amazing beautiful flowering plants. They are also house plants, easy to grow and requiring minimal care. When not in flower think of them as foliage plants.
This zygocactus site is all about the many different varieties grown in Australia. Many of these are also grown under the same or different names all around the world and where known both names are given.
The photographs show a range of profiles from single to groups and I hope some of them will inspire you to grow your own spectacular zygocactus.

How to use this site. Detailed information on each Australian variety is being listed under ZYGOCACTUS VARIETIES. To identify individual flowers look under ZYGOCACTUS COLOURS. For information on how to grow zygocactus look under ZYGOCACTUS CARE.
This zygocactus site is under continual construction with lots of photographs and information being added throughout the year. To start 2017 off we have added a Greeting Card Shop with beautiful zygocactus. More cards and prints will be continually introduced for your consideration. Unfortunately we are unable to supply plants.

Zygo Fantasies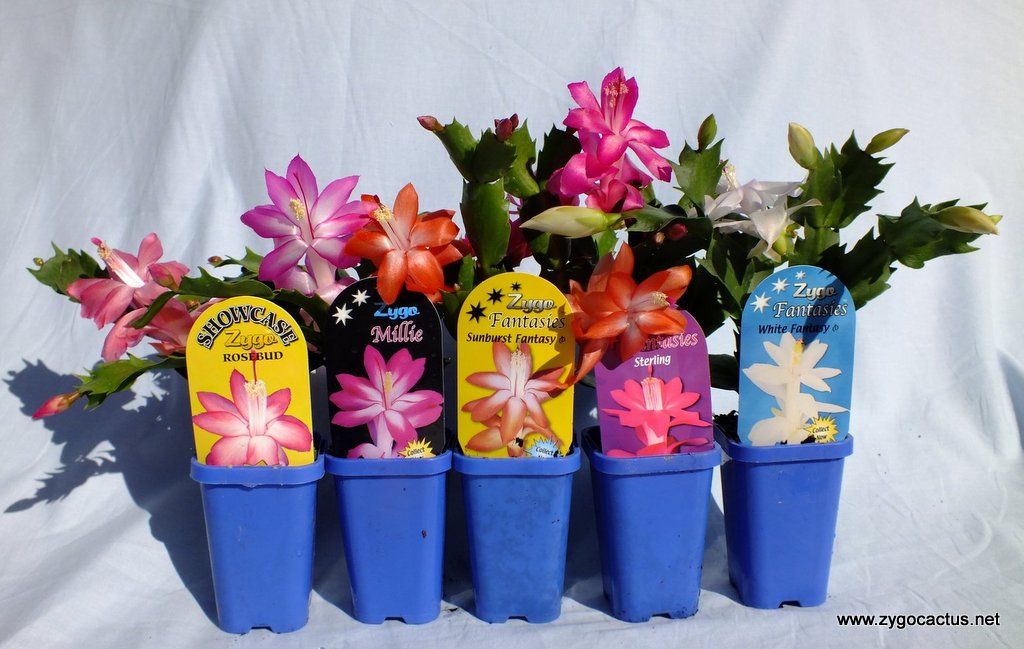 Zygocactus Fantasies
This is a sample of some of the varieties available for sale across Australia from leading garden centres during May and June each year.